Merry Fitness Gift Guide!
It's time for the Merry Fitness Gift guide!  Let's get to it!
For Beginners
One of your favorite people just got started this past Fall or planning to get started in the New Year?  Here are a few non-intimidating gifts to support their effort.
Water bottle ($10-50) – A  special water bottle is a great start to any fitness program !  You can pick any size, any color, any material (glass, metal, BPA-free plastic), any lid type, the list goes on!  Kleen Kanteen is the most popular brand I see in the gym this year. 
Headphones ($50-$200) – Lifters, runners, walkers, etc. love to move to their fave tunes.  This year it's all about wireless!   There are tons to choose from with some offering great sound AND exercise stats like VO2 max (for the elite athlete).   Add in a gift card so they can download some new songs to move to.
Theracane – ($20) Got muscle knots?  The theracane is a hook-shaped tool that allows the user to massage even those hard to reach areas with little effort.  A simple tool that produces great results!
For the Regular Exerciser
For the last year your loved one has been hitting the gym or trail 2-3 days a week.  Consider these gift ideas to help them hit the next level.
Workout clothes– ($25- priceless) Take a chance and buy them a top, bottom, or jacket.  Old Navy and Target (C9 brand) offer lower price but still good performance, look, and quality, while Athleta and Lulu Lemon are higher priced but superior fit (ergonomic panels) and style.  (Note to men: if buying for a lady and don't know her size 1. Look in her drawer for size, 2. ask her friends, or 3. guess smaller than you think.)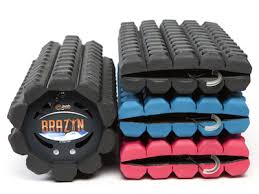 Foam Roller ($20-60)-  If your exerciser isn't foam rolling they should be.  My favorite models this year are the Trigger Point mini roller and the Morph collapsible foam roller which are both travel friendly.
Wrist exercise tracker – ($50-$100) The wrist exercise tracker has morphed into a high-tech exercise trend!  Check out the Fitbit Flex 2, and TomTom Touch which look to be this year's front run
ner's for general fitness tracking at a good cost.  Your exerciser will love it!
Specific Shoes – ($80-150) Gift them shoes that are designed for their fave activity.  Running shoes are great but not the best when lifting heavy weights.  For Resistance Training, Small Group Training, Boot Camps, CrossFit I recommend a flat shoe or shoe with a very mild heel rise.  Simply look for shoes labeled "Training".
For the Advanced
They're super fit and have EVERYTHING fitness.  Try one of these.
Wrist wraps – ($8-10) Does he or she lift heavy stuff over their heads?  Get some wrist support for them, and they look cool!
Frogg Toggs Chilly Pad – ($8-10 ) During a hot workout, drape this little towel around your neck and to help you stay a bit cooler. Great stocking stuffer!
Oster Smoothie Blender – ($15-20)  Blend your smoothie right in your sport bottle.  Quick, fresh pre-workout, or post-workout nutrition anytime!
Exercise vest – ($50-$200)  Your person is so fit they need to carry extra weight to make their exercise more challenging.  Boom!  This is perfect!
TRX Go Trainer – ($129) For those who must never miss a workout, TRX has released a low-cost, high function travel version of their versatile "Fitness Anywhere" suspension straps.  Great for home or when on vaca.
Happy Gifting and Lifting!